Exploring the yoga of life.
Monthly tips to take your yoga off the mat and into your real world – stress busters to keep you on track!
Hi, I'm Dr. Joanne Wu and I am here to inspire movement in your healthful living, starting right at work.
We all can feel like we are in a rut sometimes and it is not simply a sign of job dissatisfaction or a need for vacation. We all have responsibilities but burnout is reached when those consistent stressors have taken a physical toll on our wellbeing. Poor sleep, poor attitude, poor job performance are all early signs.
Today, we will review three simple ways to avoid burnout and get the pep back in our step
1.)   Readjust our expectations
At the end of the day, tell yourself whatever is done is done. Learn to say no and quit comparing yourself. Turn off the computer at the end of the day and before you leave, close your eyes, take breath to reset and say to yourself  "I'm done, I'm good, and tomorrow is another day."  Manage up the stressful emotions. You are in control.
 2.)   Exercise
The end of the day often brings fatigue. Exercise drops cortisol levels and can reduce stress. Just 20minutes of light exercise including a simple walk to your car can help reset your mood. So go ahead, park further from your car so you can let your mind drift towards yourself once again. You are worth it!
3.)   Connect with Friends and Family
Love is a great healing power. Don't have time to meet up with others? Make a couple of calls on your Bluetooth on your way to the car or in the car. Don't vent about your day, just tell them you are thinking of them and let go. You are more than your job.  Your friends and family are great reminders.
Thank you for joining me today to help you find wellness in your life!
Feel free to check out my other Fit2bWell Health tips and videos to help you in your journey towards a better you.
http://fit2bwell.com/site/wp-content/uploads/2014/09/Screen-Shot-2014-09-24-at-9.56.27-AM.png
258
244
JoanneWu
http://fit2bwell.com/site/wp-content/uploads/2013/09/logo_216.png
JoanneWu
2014-10-20 15:31:40
2014-10-20 19:30:55
Avoid Burnouts
Gluten free is no longer becoming a trend. It is a way of life. It has been known that a gluten-free diet can be anti-inflammatory. It is a diet that excludes the protein gluten. Gluten is found in grains such as wheat, barley, rye.
A gluten-free diet is also used to treat celiac disease. Gluten causes inflammation in the small intestines of people with this disease, making them really sick from malabsorption.  Eating a gluten-free diet helps people control their signs and symptoms of this disease and prevent complications.
This recipe is delicious, similar to many GF recipes on Simply Gluten-Free.com.  Check them out!
(Fit2bWell Tip: Many healthy and delicious foods are naturally gluten-free such as beans, seeds, nuts, fresh eggs, fresh meats, fish, poultry, fruits and vegetables. Most dairy is also gluten-free! It's important to make sure that they are not processed or mixed with gluten-containing grains, additives or preservative)
Gluten Free Eggs Baked in Tomato Sauce Recipe (serves 4)
Ingredients
1 tablespoon olive oil
1 medium onion, diced
1 clove garlic, minced
1 (15-ounce) can of diced tomatoes
1½ cups tomato sauce
Salt
Black pepper
8 large eggs (can substitute out four whole eggs for four egg whites)
¼ cup parmesan cheese, grated – optional
Directions
Preheat oven to 350 degrees.
In a large skillet, heat the olive oil over medium-high heat. Add the onion and cook for 5 minutes or until softened. Add the garlic and cook for 30 more seconds. Add the canned tomatoes along with the juice and cook for about 10 minutes or until the liquid has evaporated. Add the tomato sauce and cook for another 5 minutes. Season to taste with salt and pepper.
Divide the sauce among four 12-ounce oven-proof ramekins, bowls, or mini skillets. Crack two eggs on top of the sauce in each ramekin, and sprinkle the eggs with a little salt and pepper. Sprinkle the parmesan on top and bake for 10 minutes or until the whites are set and the yolks are still soft.
http://fit2bwell.com/site/wp-content/uploads/2014/09/Glutenfreeeggs-1.jpg
200
300
JoanneWu
http://fit2bwell.com/site/wp-content/uploads/2013/09/logo_216.png
JoanneWu
2014-10-13 07:42:12
2014-09-29 12:46:39
Eggs and Tomato Pie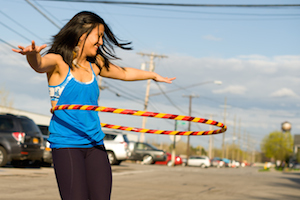 Hula Hooping is no longer an activity for kids. I fell in love with this sport the last couple years when I spent my time traveling to festivals and dancing in the great outdoor summer son. Since then, I have become a certified Hoopnotica Fit and Flow teacher. The way the hoop flows the body really enhances our natural curves. It is a dance with our consciousness. You can't help but laugh as you explore new moves with a hoop. Hooping has been helping many lose inches off their waist over the years and build cardiovascular endurance and improving balance.
 Check out this article I commented on in EveryDay Health!
 (Fit2bWell tip: Talk with your doctor about your desire to hoop. Seek out a fun but experienced teacher Make sure that foot, knee, hip and back problems are cleared before attempting any rigorous training event to avoid injuries. Consider doing this as a family activity, outdoors, and listening to a tune that moves you!)
Ten steps to hula hooping:
1.)   Wear comfortable clothing. Recommend no backless sandals or shoeless when you first start
2.)   Put the hula hoop on the ground and choose a hoop that reaches your chest or waist. The larger the hoop, the heavier the hoop (to a certain point) tends to be better for beginners due to its slower spin.
3.)   Step inside the hoop
4.)   Reach down and pick up the hoop with soft knees. Ensure hands are at a comfortable distance apart
5.)   Bring hula hoop to waist level. Step one foot in front of the other (approx 1-2 shoe lengths) with soft knees
6.)   Hold on to hoop but place on side of your body near top of pelvis
7.)   Spin the hoop clockwise or counterclockwise. Many feel comfortable with one side better than the other, so explore
8.)   Start to think about points of contact with the hoop. Those would be your push points. Push your stomach forward as the hoop comes around. Push back with the back as it goes around the other way. Sometimes circular motion with push points on side to side feels better. So see what works for you!
9.)   Keep breathing, keep smiling and keep the hoop spinning
10.) Expect the hoop to fall, and when it does, keep trying and have fun!
http://fit2bwell.com/site/wp-content/uploads/2014/09/CassJustCurious-HighResolution-Lululemon-10-of-16.jpg
200
300
JoanneWu
http://fit2bwell.com/site/wp-content/uploads/2013/09/logo_216.png
JoanneWu
2014-10-08 12:33:32
2014-09-29 12:46:51
Movement of the Month: Hula Hooping