Exploring the yoga of life.
Monthly tips to take your yoga off the mat and into your real world – stress busters to keep you on track!
Dr. Joanne Wu from Unity Hospital joined Katrina Irwin on News 8 at Noon.
She has some tips to Keep the Holidays Healthy and Well
1.) Practice gratitude – be thankful for the food in front of you, where it came from and who prepared it for you, as well as
for the lives you have touched and touched yours. Be grateful for the people you share your meals with. If you are not shy, spend time to thank them aloud. You will be amazed the smiles you will see and how much better the food will taste!
2.) Be present – don't distract yourself. Turn off your phones and your computers. Look at the food and the faces of those around your table. Enjoy their presence as much as they want to enjoy yours. Distraction is the easiest way to overeating.
3.) Exercise compassion – kindness to others always come more naturally, but this tip applies to leaving more time for yourself. "Me" time. In the season of buying gifts, don't forget to be nice to yourself, so you have more energy to give to others. You can't give what you don't have. "Me" time helps you restore.
4.) Eat your breakfast – meal skipping is not advised, especially breakfast. Most people realize by now that skipping a meal is bad, because of the glycemic control of the body. A body is like a fire, it needs to be fed kindling or small wood pieces throughout the day in order for the fire to burn efficiently and that there is no wood leftover at the end of a clean burn. During the holidays, this is really important because many people think if they can "save" their calories for the end of the day, then they can binge. While it is ok to cut back on the portions of the meals before, it can work against you when you go into your holiday meals or cocktail parties eager to stuff whatever it is in front of your face.
5.) Take a pause – going from the mall to a holiday party to home to wrap presents and place under the tree then singing a lullaby to your kids can be a lot without too much time to even breathe. Breathing slows down our heart rates, but it also helps us slow down and think about what we are doing, what we are eating, and reflect on where we are going. It is in
stillness that we can truly enjoy our joy.
6.) Fitness anywhere – trying to get to a gym to workout this time of year can be challenging. Get up from your desk several times a day to grab some water, walk the stairs, and park further away from your destination. Do some deap breathing and stretches for a five min stretch break. Go for a brisk walk around your neighborhood and enjoy the lights with some warm spiced tea hand to promote circulation, anti-inflammation, and natural endorphins.
7.) Learn forgiveness – holding on to negative energy can lead to emotional eating. Take time this holiday to let go and forgive. Whether it is a friend who has wronged you, or you being mad at yourself for eating too much pie, the negative energy can brew and stagnate and lead to less energy overall.
8.) Balance your plate – Choose your plate wisely. Join First Lady Obama and the Department of Agriculture's campaign to bring awareness to the need to battle obesity in America by making nutrition fun and practical. Learn how to fill your plate with a balanced mixture of fruits, grains, vegetable and protein. So when you walk away from the holiday buffet table with your plate, take a look, get a sense of what you are putting on your plate. We are what we eat.
http://fit2bwell.com/site/wp-content/uploads/2013/10/fruitsalad.jpg
801
1200
casscomerford
http://fit2bwell.com/site/wp-content/uploads/2013/09/logo_216.png
casscomerford
2013-10-08 19:09:00
2013-10-17 14:01:33
Tips for Staying Healthy at the Holidays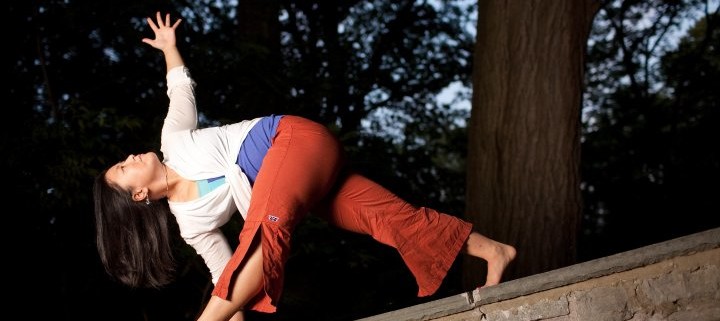 For the last 10 years, yoga has slowly become one of the trendiest forms of exercise. Popular media has marketed yoga to be neat packages of flexibility, strength, beauty and grace embodied in athletes and models. With the rising popularity of such campaigns, many are intimidated to step onto a yoga mat, let alone a class.
Shadowed by the fitness world, many people do not realize the power of yoga as an ancient form of movement based healing, especially for something as common as heart problems. According to the Center of Disease Control and Prevention in 2012, cardiovascular diseases remain the leading cause of death in the US; one in every three deaths is from heart attack or stroke, equaling to 2,200 deaths/day. Despite Dr. Timothy McCall's book published in 2007 called Yoga as Medicine and Dr. M. Mala Cunningham's unique form of Cardiac Yoga TM (www.cardiacyoga.com), yoga as preventative and healing medicine for heart disease is still largely unrecognized.
Yoga literally means "to yoke" or "union" in Sanskrit, a language of India, the birthplace of yoga and yoga philosophy. It has many different styles called many different fancy Sanskrit names and created by many different people. Beyond the physical postures, yoga emphasizes strong breath work and through its philosophy encourages self compassion and inner peace. "With regular practice, you are strengthening and calming the nervous system," says Dr. McCall.
As yogis and yoginis exercise their physical being, they become stronger, more flexible, and less cluttered with excess in their bodies. Moreover, "what is happening on the outside is a reflection of what is happening to every system in the body," says Dr. McCall.
It is through intentional elimination of the excess and developing resilience in our mind and spirit that stress is also diminished.
Since stress is a known risk factor for many chronic medical conditions, especially those affecting the heart including high blood pressure, high cholesterol, heart disease and heart attacks, it is no wonder that yoga is an endorsed form of exercise from the American Heart Association. Yoga is also one of the fastest growing research areas for the National Institutes of Health, so we can help scientifically demonstrate what many people already self report.
According to the Yoga BioMedical Trust, 84 percent of people noted improved blood pressure while 94 percent of people noted improved cholesterol. This is in addition to other cardiac risk factors such as anxiety, poor sleep, obesity, smoking, and diabetes – all of which also demonstrated at least 75 percent improvement with yoga. Best of all, an average yoga class costs about $12 in most studios. Now what drug can work on all of the above at that cost? Not all forms of yoga is right for everyone. And not every form of yoga is safe for those who suffer from medical conditions such as heart disease since practicing advanced yoga postures in heat can lead to a sudden drop in blood pressure, or even worse falls or loss of consciousness. But yoga can be tailored for most individuals. It is important to have an open and honest discussion with your physician and potential yoga teacher about why you want to explore using yoga as a form of mind/body exercise and healing. But as we wrap up another year with heavier foods, busier schedules and hectic travels of the holiday season, keep in mind that yoga can be a wonderful way to introduce lightness to the heart and spirit, calmness to the mind, and rejuvenation for the body.
Dr. Wu is an E-RYT (experienced registered yoga teacher) She was also a personal trainer certified in a variety of fitness exercises and a multisport athlete for more than eight years. photo courtesy of Scott Southerland (www.thinkincolor.net)
http://fit2bwell.com/site/wp-content/uploads/2013/10/joyoga2.jpg
480
720
casscomerford
http://fit2bwell.com/site/wp-content/uploads/2013/09/logo_216.png
casscomerford
2013-10-08 19:03:42
2013-10-17 13:59:45
Yoga for the heart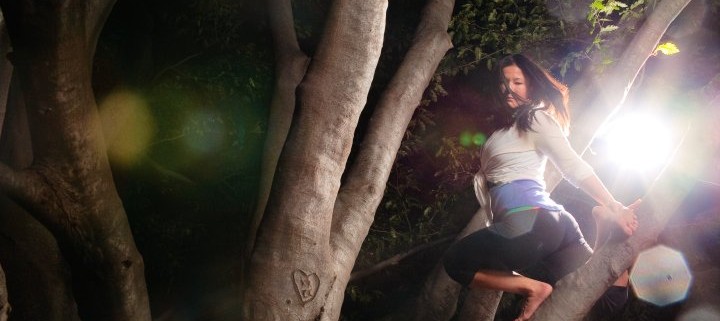 "Live passionately and don't hold back" ~ Anonymous
I began my yoga journey through competitive racing in marathons and triathlons around 2003. I have always been an athlete, from basketball to cheerleading, and have had passion in fitness and health. I used yoga and endurance racing to cope with stress and to keep healthy during medical school and residency in Physical Medicine and Rehabilitation. As my clinical experience grew in medicine, I sought to use yoga and other mind/body exercises such as TRX, Hoopnotica Flow, Pilates, Cirque Fit, and Barre as modalities to not only keep people fit, but well. I later became board-certified to practice Integrative and Holistic Medicine. I am an experienced registered yoga teacher through Yoga Alliance and received training primarily in an Anusara inspired/Alignment-based yoga program. I also took courses in PiYo, Thai Yoga Massage, Iyengar, Restorative, Aerial Yoga and Acroyoga to add to my breadth of other fitness trainings in pilates, pilates reformer, barre, and spinning. I practice various forms of yoga outside of Anusara including Baptiste Power vinyasa, Acroyoga and Bikram. I even took focused trainings at Duke Integrative Medicine Center and at Kripalu Center for Health so that I can teach yoga and chair yoga to seniors and yoga for scoliosis. I have had the pleasure to attend trainings with esteemed teachers such as Simon Park, Seane Corne, Sianna Sherman, Jason Magness, Chelsea Magness, Elise Browning Miller, Lux Sternstein and Jason Nemer. In 2013, I became a Lululemon yoga and health ambassador.
"Be the change you want to see in the world" ~ Mahatma Ghandi
I believe in balance, while exploring fun in the journey of always striving for better, and continue to learn various styles of yoga and integrative and lifestyle medicine, to further nurture myself, my students, and my patients. Aside from a full time clinical practice, I remain a teaching faculty and alumni council board member at University of Rochester School of Medicine. I enjoy teaching medical students how to become more diversified, compassionate, and holistic. Outside of Rochester, I currently serve as a peer reviewer for the International Journal of Yoga Therapy and am a contributing author to various magazines and forums. Off the mat, I have had additional trainings in Reiki, osteopathic manipulations, active release techniques, craniosacral therapy, and acupuncture. I am also a certified holistic health coach and integrative nutrition counselor. To continue my journey in sharing my passion of empowerment and self-care through joyous movement, preventative medicine, and wholesome eating, I am the founding president for Fit2bWell Health: a wellness company that focuses on bio-individuality and mindful healing. I look forward to riding this beautiful ride we call life, and to help my community grow closer together as we grow with purpose, love, and gratitude.
"Why I love my yoga practice: it is a place and time where I can learn to be a better me just by simply being me.
Why I love teaching yoga: it is my way to share that better me with my community so to mutually inspire towards honest self-growth – from a place of self-acceptance, unrelenting kindness, and joyous play.
The gift of yoga is priceless." ~ Joanne Wu, MD E-RYT 200
Why do you yoga?
http://fit2bwell.com/site/wp-content/uploads/2013/08/joyoga4.jpg
428
720
casscomerford
http://fit2bwell.com/site/wp-content/uploads/2013/09/logo_216.png
casscomerford
2013-10-01 22:34:01
2013-10-23 11:08:23
My Yoga Journey