Exploring the yoga of life.
Monthly tips to take your yoga off the mat and into your real world – stress busters to keep you on track!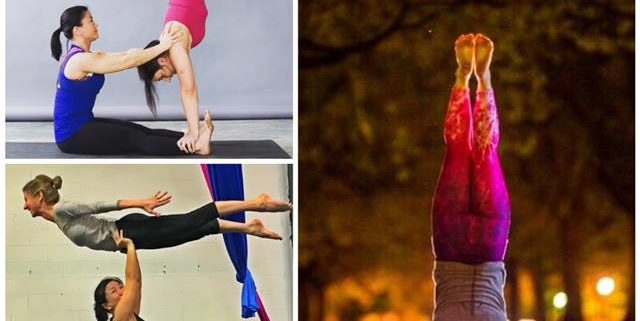 January 17th, 24th and 31st 6:00pm – 8:00pm
Nova Fitness 
53 Russell Street
Rochester, NY 14607
Tickets Available Here
Acrobatic conditioning is back for 2018! Let's get strong together 🙂
It's free for Wed 1/3. $5 suggested donation after total for class and jam. (Donation goes to cover space rental) For those who go to Aerial Arts Acrofit with Rafi 5:45pm-6:45pm can come to jam for FREE after.
All acro requires consistent base skills in strength, flexibility, timing, coordination, communication and safety. This requires a class that focuses on not necessarily showing new skills in flow, dynamic transitions, but rather a class that focused on the foundation so that you can jam and practice with confidence after.
6-7pm is open level conditioning
7-8pm is open practice/jam
Train with good community support. Let's lift each other to new heights. No previous acro experience necessary.
http://fit2bwell.com/site/wp-content/uploads/2017/12/24058876_1488790197908503_7596602099143840318_n.jpg
640
640
JoanneWu
http://fit2bwell.com/site/wp-content/uploads/2013/09/logo_216.png
JoanneWu
2018-01-15 15:44:49
2018-01-16 13:51:56
Free 4-week OPEN level Acro Conditioning Class at NOVA!
Sunday January 14, 2018
10:00am – 11:00am
Athleta at Eastview Mall
7979 Pittsford Victor Road
Victor, NY 14564
Are you up for anything in 2018?
Explore fun and fit ways to fly high and stay strong this year with me. I will be working with collaborative partners all year long to bring some free ways to stay in shape and get strong. Starting with a partnership with Athleta Eastview Mall. We will kick off a celebration of the new line of fitness wear with a free Acroyoga class! Feel free to shop at the store afterwards and learn of some amazing discounts.
No experience required. No partner required. Mats provided. Just bring a sense of exploration, a smile and your desire to play! Free swag comes with the free class courtesy of Fit2bwell.
Joining Dr. Joanne Wu in instruction is the awesome Leah Gerenski, PT of Lattimore PT network. We will ensure safety and joy in your practice and get you hooked up with local classes, teachers and events. Let's ROC strong this year!
http://fit2bwell.com/site/wp-content/uploads/2018/01/26733350_1532147673572755_2638630673307102032_n.jpg
390
640
sandy
http://fit2bwell.com/site/wp-content/uploads/2013/09/logo_216.png
sandy
2018-01-09 15:22:17
2018-01-09 15:22:41
Up for Anything: Free Intro to Acroyoga Class at Athleta
January 19, 2018-January 21, 2018
Ellicottville, NY
Don't let the winter blues weigh you down! Join us for a weekend getaway that is sure to help lift you up, warm you up, and level up your acro! Feel free to treat yourself with this holiday present guaranteed to make you smile.
Join me and cohost Anya from Acro.To for a fun retreat filled with 15hours of progressive acrobatic training and jam, fire time, hot tub time and if you like, ski or snowshoe time. We will be 3mi from Holiday Valley in a luxurious 5bedroom 4bath chalet. Address will be sent to each participant once signup confirmed.
Only 1.5hrs from Rochester, 2.5 hrs from syracuse, 1hr from Ithaca, 3hrs from Toronto, 45min from Buffalo. A central location to all!
This is an intermediate level weekend of acro. Only those who have had at least 6mo of training or otherwise approved by me or Anya will be accepted. We want to LEVEL up the crew!
A mix of standing acro, dance acro, pops, and washing machines will be offered. Full schedule to be posted in 1wk.
Cost will include two nights stay, acrobatic education, fri night dinner, sat breakfast/lunch/dinner, Sun breakfast and lunch cooked by the amazing Nate and Chris from the Acroyoga Rochester community. It will be healthy and fresh! Can't beat the price and value.
Starts 6pm Fri
Ends 6pm Sun
Cost:
$150/person if signed up before 1/1
$175/person if signed up before 1/10
$200/person there after.
Pay HERE
http://fit2bwell.com/site/wp-content/uploads/2017/12/25446239_1512101198910736_6299191091217741303_n.jpg
540
960
sandy
http://fit2bwell.com/site/wp-content/uploads/2013/09/logo_216.png
sandy
2017-12-21 15:48:17
2017-12-21 15:48:17
Frosty Flights: Upstate NY Acro Weekend Retreat w/ Ski/Snowshoe