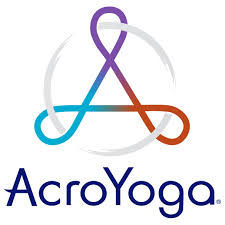 Acroyoga is a physical practice which fuses elements of yoga, acrobatics, performance and healing arts. Yoga is a union of mind, body and spirit through concentration, breath, and loving kindness.
Acro simply takes yoga to a new "height" or "summit." It is a dynamic, exploratory, and joyous practice that builds trust, awareness, and play by taking that connection nurtured by a sole yoga journey to one founded on community and partnership. By working with others, we will learn new strength and flexibility through communication with partnered movement, supportive dialogue, and therapeutic touch. It is not just a practice of tricks and sequencing, but a graceful flow of energy through authentic connection.
I have had the fortune of training with many wonderful teachers, especially my mentor Lux Sternstein of SeattleAcro, who reminds me "everything is possible" and all things we think are not, are simply "yet" to be possible.
This year, I am grateful for my practice, my teachers, and friends who help make my Acroyoga journey special. I look forward to my continuing education and exploration of this wonderful art.
With this direction declaration, I am happy to announce my commitment to building a safe and fun ROCAcro community as Acroyoga JAMbassador.
August 5th 10:00am to 2:00pm UP Aerial Fitness 722 West Delavan Avenue Buffalo, NY 14222 Ticket Information HERE UP! Aerial Fitness opens its doors August 1st in the repurposed #56 school's gymnasium, located at 722 West Delavan Avenue. Up! Aerial Fitness will offer alternative workouts approachable to all levels utilizing contemporary circus apparatuses such as […]
http://fit2bwell.com/site/wp-content/uploads/2017/07/20228698_1902219600032330_5918748915060482088_n.jpg
510
960
JoanneWu
http://fit2bwell.com/site/wp-content/uploads/2013/09/logo_216.png
JoanneWu
2017-07-24 16:18:02
2017-07-25 06:55:50
Grand Opening of UP! Aerial Fitness
YOU HAVE NEVER SEEN THURSDAYS LIKE THIS BEFORE….& WE KNOW YOU'RE GOING TO LOVE THEM! 🏄🏼 Each Thurs this summer we will bring you a fusion fitness, stand up paddleboard (SUP) 75 minute class for only $30 that will have you coming back for more each week!🏄🏻‍♀️ FREE DRINK on us after to celebrate your […]
http://fit2bwell.com/site/wp-content/uploads/2017/07/19875619_1354970631290461_2889546707070870778_n.jpg
480
480
sandy
http://fit2bwell.com/site/wp-content/uploads/2013/09/logo_216.png
sandy
2017-07-12 17:51:14
2017-07-12 17:53:33
TRI & SUP Thursdays: Power, Paddle and Prana Yoga w/drink after!
June 25th 4:00-6:00pm Soma Gura Wellness Center 2154 Grand Island Blvd Grand Island, New York $35.00 per person
http://fit2bwell.com/site/wp-content/uploads/2017/06/Joanne-Wu-1.jpg
1648
1273
sandy
http://fit2bwell.com/site/wp-content/uploads/2013/09/logo_216.png
sandy
2017-06-21 18:34:00
2017-06-21 18:34:00
Partner Yoga With Vanessa Satterlee & Joanne Wu