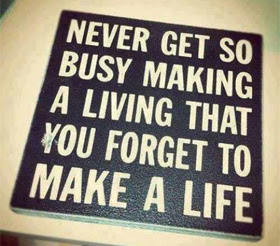 Another birthday recently passed as I celebrate being a Libra. This astrological sign is marked by the constellation of scales. The cosmic image often symbolizes harmony, balance and equality. I am inspired by this gathering of stars to explore the definition of balance and why we all seek it but never seem to ever truly feel it or find it.
According to the Merriam Webster Dictionary:
Balance (– noun –)
: the state of having your weight spread equally so that you do not fall
: the ability to move or to remain in a position without losing control or falling
: a state in which different things occur in equal or proper amounts or have an equal or proper amount of importance
I think we often try to have equality in our lives when it comes time to work and play. I used to have a mantra of "work hard, play hard." The problem with that is: I become exhausted. Don't get me wrong, I still enjoy working hard to earn my recreational leisure, but I have learned the importance of not necessary having the two be equal, or the same. I become less rigid about retaining control and have more fun with the concept of free falling into relaxation. Often, we strive to hold on to all the balls that we juggle in our lives and feel bad when we put one down. But when we continue to steady the plates by gripping tightly, we lose the sense of fun of being able to have the ability to play with so many different things going on it lives. The fear of falling and the concept of failure end in our burnout.
Work-life balance is one that often feels impossible. Burnout and stress has been often cited by many corporate wellness surveys to be the number one health issue for the last couple years. There is no "perfect" formula to achieving this task. It is one that constantly evolves and revolves around embracing power in the present moment, being flexible to change, understanding one's values, and respecting boundaries.
Yoga is a wonderful tool to dial down, tune inward, and figure out what matters to you, what is going on around you, and what you can realistically do to impact change. I have learned with time that my yoga practice is one that always grounds me during times of stress, when I feel slightly out of control in a situation where I don't have control, and remind me of the deeper purpose of my being. It reminds me the importance of acknowledging the role that I play not just at my work, but also in my home, in my family, and in my community. So next time you feel a bit off in your work-life balance, learn it from this Libra yogini, "two feet, one breath." Feel the earth, inhale, exhale – it's what defines living.
http://fit2bwell.com/site/wp-content/uploads/2014/11/Balance.jpg
246
280
JoanneWu
http://fit2bwell.com/site/wp-content/uploads/2013/09/logo_216.png
JoanneWu
2014-11-12 08:41:45
2014-11-04 17:42:39
Balance: Steadiness through Dynamic Play