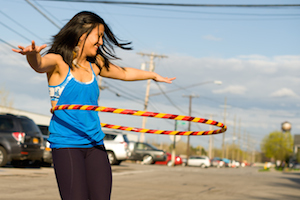 Hula Hooping is no longer an activity for kids. I fell in love with this sport the last couple years when I spent my time traveling to festivals and dancing in the great outdoor summer son. Since then, I have become a certified Hoopnotica Fit and Flow teacher. The way the hoop flows the body really enhances our natural curves. It is a dance with our consciousness. You can't help but laugh as you explore new moves with a hoop. Hooping has been helping many lose inches off their waist over the years and build cardiovascular endurance and improving balance.
 Check out this article I commented on in EveryDay Health!
 (Fit2bWell tip: Talk with your doctor about your desire to hoop. Seek out a fun but experienced teacher Make sure that foot, knee, hip and back problems are cleared before attempting any rigorous training event to avoid injuries. Consider doing this as a family activity, outdoors, and listening to a tune that moves you!)
Ten steps to hula hooping:
1.)   Wear comfortable clothing. Recommend no backless sandals or shoeless when you first start
2.)   Put the hula hoop on the ground and choose a hoop that reaches your chest or waist. The larger the hoop, the heavier the hoop (to a certain point) tends to be better for beginners due to its slower spin.
3.)   Step inside the hoop
4.)   Reach down and pick up the hoop with soft knees. Ensure hands are at a comfortable distance apart
5.)   Bring hula hoop to waist level. Step one foot in front of the other (approx 1-2 shoe lengths) with soft knees
6.)   Hold on to hoop but place on side of your body near top of pelvis
7.)   Spin the hoop clockwise or counterclockwise. Many feel comfortable with one side better than the other, so explore
8.)   Start to think about points of contact with the hoop. Those would be your push points. Push your stomach forward as the hoop comes around. Push back with the back as it goes around the other way. Sometimes circular motion with push points on side to side feels better. So see what works for you!
9.)   Keep breathing, keep smiling and keep the hoop spinning
10.) Expect the hoop to fall, and when it does, keep trying and have fun!
http://fit2bwell.com/site/wp-content/uploads/2014/09/CassJustCurious-HighResolution-Lululemon-10-of-16.jpg
200
300
JoanneWu
http://fit2bwell.com/site/wp-content/uploads/2013/09/logo_216.png
JoanneWu
2014-10-08 12:33:32
2014-09-29 12:46:51
Movement of the Month: Hula Hooping