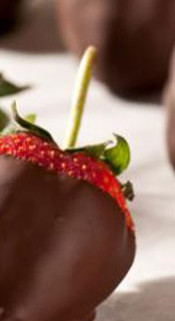 Fit2bwell Tip: Quality dark chocolate is rich in Fiber, Iron, Magnesium, Copper, Manganese and Antioxidants. When consumed in moderation, it can have heart healthy benefits. Try this recipes by coating the berries with heart attack prevention chopped nuts like almonds for more texture – Delish!
• 18-20 large fresh, strawberries (preferably organic)
• 8-10 ounces (225 – 285 grams) of good quality, dark or bittersweet chocolate, rated 70%, chopped coarse
Yield: Approximately 18-20 berries or 6-10 servings Ingredients
1. Wash strawberries, place on paper towel to dry
2. Prepare a baking sheet lined with parchment paper
3. Set up a double boiler by placing a sauce pan filled with water over medium heat and then a stainless steel bowl on top of the pan. Make sure bowl does not touch the water
4. Place chopped chocolate in bowl, turn heat to low
5. Let chocolate melt slowly, once completely melted, stir and turn off heat
6. Hold strawberry at stem, dip them in chocolate, and place on baking sheet to set
7. Enjoy!
http://fit2bwell.com/site/wp-content/uploads/2014/03/ChocolateCoveredStrawberries.jpg
520
175
JoanneWu
http://fit2bwell.com/site/wp-content/uploads/2013/09/logo_216.png
JoanneWu
2014-03-19 11:46:44
2014-03-19 11:51:41
chocolate covered strawberries